Discussion Starter
·
#1
·
So I've been cooking up a scheme to tackle a dirt route from Tucson to the Willcox Playa for awhile now. I've been to the Playa before in my Suburban, but we took the interstate there and back.
From what I've been able to glean from my road atlas and google earth, it is possible to get there a "back way" that is almost entirely unpaved. I don't have the fuel capacity, tool kit, or experience to tackle a route like this just yet though. My goal would be to ride from Tucson to the Playa, goof around on the playa for awhile, and then ride all the way back to Tucson in one day. If that sounds like fun to anybody near here, I'm hoping to actually make the full trip in late spring sometime and I'd love to have some company.
Anyway, I thought it would be a good idea to scout out the first part of the route, so that's what I did today. I rode about 55 miles from my driveway to Three Links Rd via Redington Rd to Cascabel Rd/The San Pedro Hwy, then back again. All in it was about 100 miles of dirt, which was a new milestone for me.
An interestingly eroded hillside just before Redington intersects Cascabel. That Saguaro in the upper right is probably 40 years old, but he'll be lucky if he can hold on to that edge for more than one or two more monsoons. You can see what's left of his brother on the ground behind my TW.
Sorry for the poor quality on these, but I had to share anyway. This has to be the thickest stand of Chollas I've ever seen. The whole hill was lousy with 'em.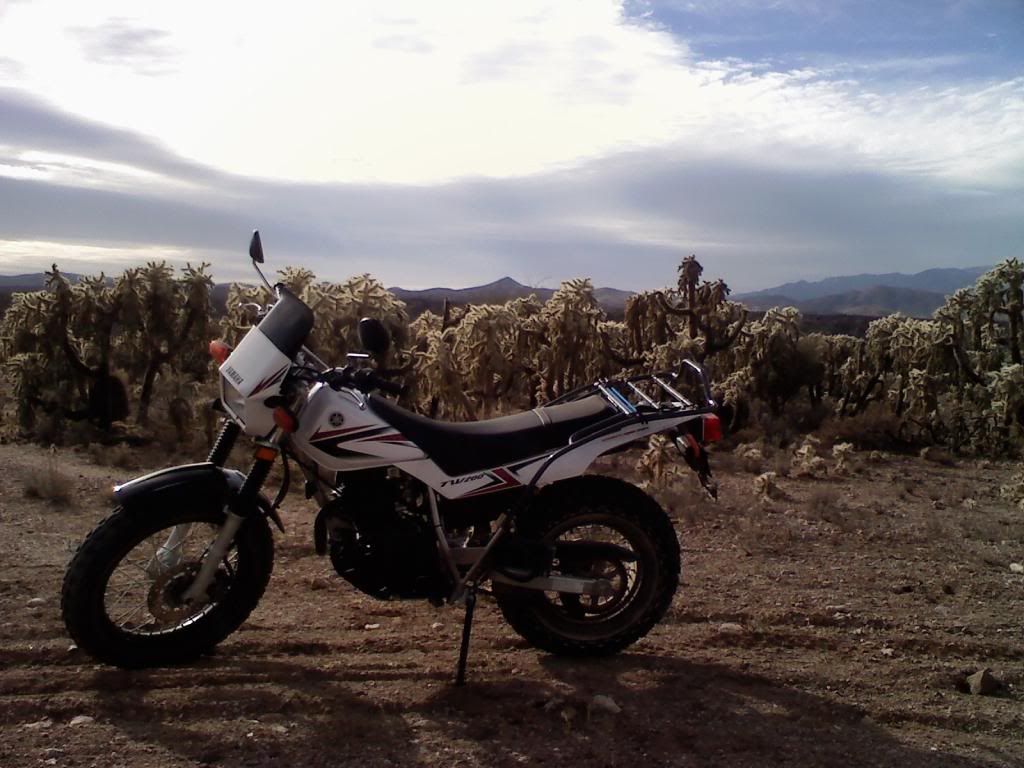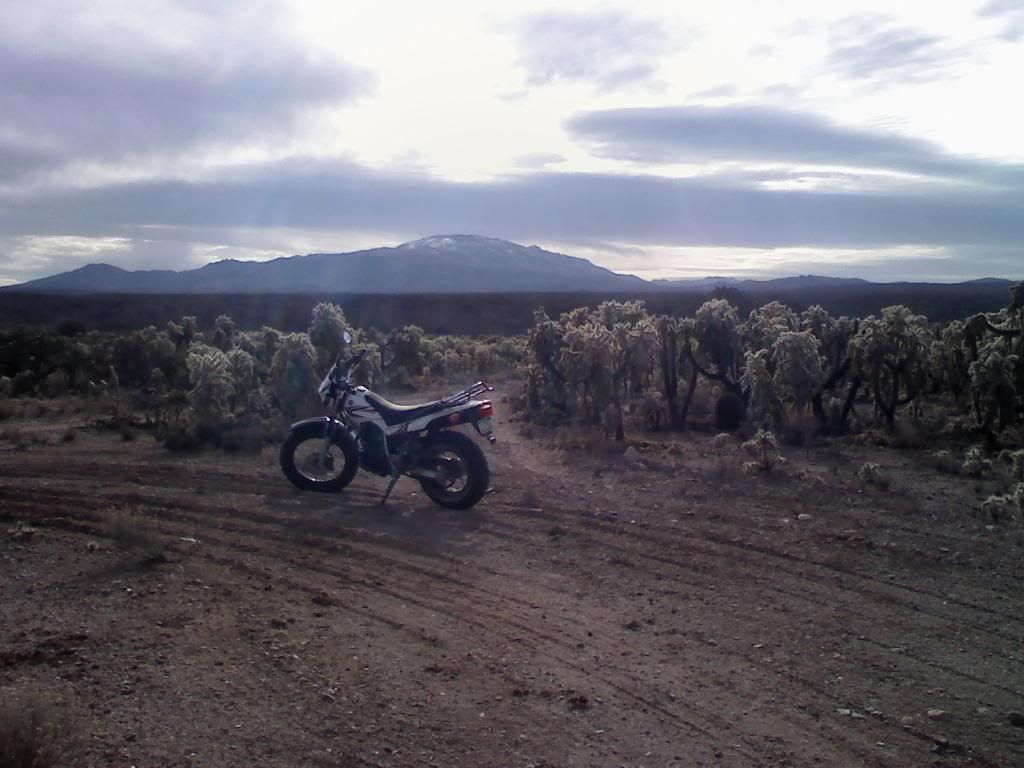 I didn't apply a sepia effect to this, it just came out that way.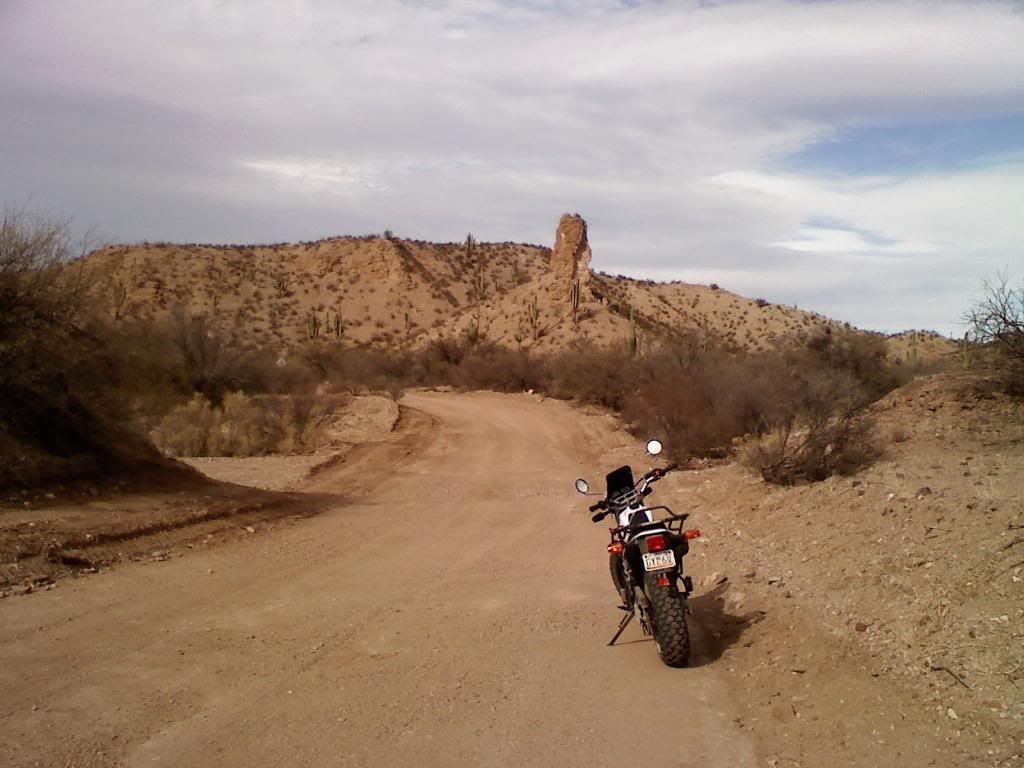 There's a lot of this kind of topography down around Benson, AZ. I didn't realize it occurred this far North of there.
When I pulled off onto Three Links Rd, I stopped for a snack before heading back to Tucson.
Looking back the way I came.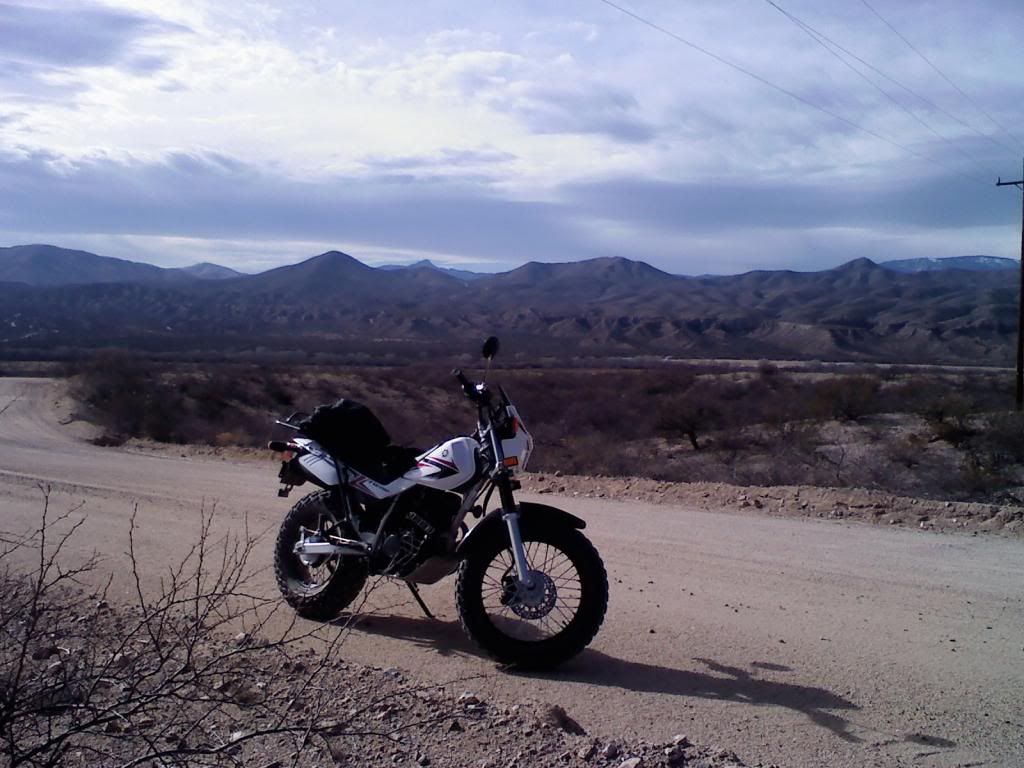 Looking Southeast towards Willcox.
Three Links Rd seems to be fairly well maintained, as was most of the San Pedro Hwy. In AZ the "Highway" nomen does not necessarily indicate that a road is paved, and in fact I only hit pavement about 20 yards before turning off onto Three Links (which is also dirt). I was comfortable cruising around 35-40mph most of the time on the San Pedro Hwy, but I had to slow WAY down on the turns. That Deathwing front tire has got to go before I try tackling a route 3-4 times this length in one day. Those little washouts are too unnerving, even if they don't result in a crash.