So here is the (almost) completed project:
( Not intended for street use )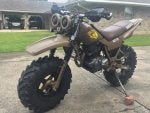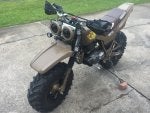 Project items/changes:
- Engine Rebuild / Wiseco 70mm Piston
- Performance Clutch Basket, plates, pads, heavy duty springs
- New starter clutch
- New solenoid & Ignition coil
- New seat cover
- Valve seals, rings, Gaskets, heavy duty timing chain
- Oil cooler & Radiator
- New fork boots
- Coyote Brown paint with protective enamel coating
- Oversized foot pegs
- Rear Blaster Shock
- New front & rear brakes
- Heavy Duty O-Ring Chain
- Extended WR flexable foot shifter
- Black Anodized 51T Sprocket
- (4) Visible LED Lights
- Dual Military 30 Watt IR Illuminator / Visible by removing blackout filter. (Lamp converted from 24v to 12v)
- Light switch to select either IR Illuminator lights or visible LED lights ( either one or the other can be powered on in order to prevent accidentally powering all on )
- Copper 90 degree elbow on exhaust tip (to push exhaust sound waves directly downward)
- Brush hand guards on MSR handlebars
- Fiberglass exhaust wrap - Titanium color
- BW Triple Clamps , Forks, Brake & Front Rim
- New clutch & brake lines
- Duro Power Grip with polyurethane sealed rim, rubber coated
- 6 Ply MassFx P377, ATV/UTV Front Tire ( 25 x 8 - 12 )
- Keyed ignition replaced with on/off switch, green neutral LED indicator, Moose racing hour/tachometer,
voltage readout indicator, dual USB chargers (5v 1A & 5v 2.1A) & battery disconnect kill switch
At some point I will be exploring replacing the front drum with a disk brake system.. which then may lead me to a larger capacity tank, etc.
Originally, it had bent front rim, forks & triple clamps were bent/damaged, cylinder head was pitted, clutch basket was trashed and too many numerous issues to count.
Here it was when I picked it up:
I should have taken pics of the other numerous damage and wear - it was quite intriguing.