Discussion Starter
·
#1
·
I entered the Spring Hare Scramble at the Horn Rapids Motorsport Complex in Richland, WA on Sunday, March 14th. I got talked into entering by my father in-law who rides motocross. I thought I wasn't ready and I definitely thought the TW wasn't up to the task, but I entered anyways. The race consisted of 10 mile laps. The class I rode in had to complete two laps for a total of 20 miles. Other classes rode 40, 50, and even 60 miles! At the riders meeting I started looking around and all I saw was high end and high dollar motorcycles. I saw a couple "plated" KTM's who thought they were dual sports but really weren't, and another bike that was a dual sport but looked more like a full fledged motorcross bike.
Here we are getting ready: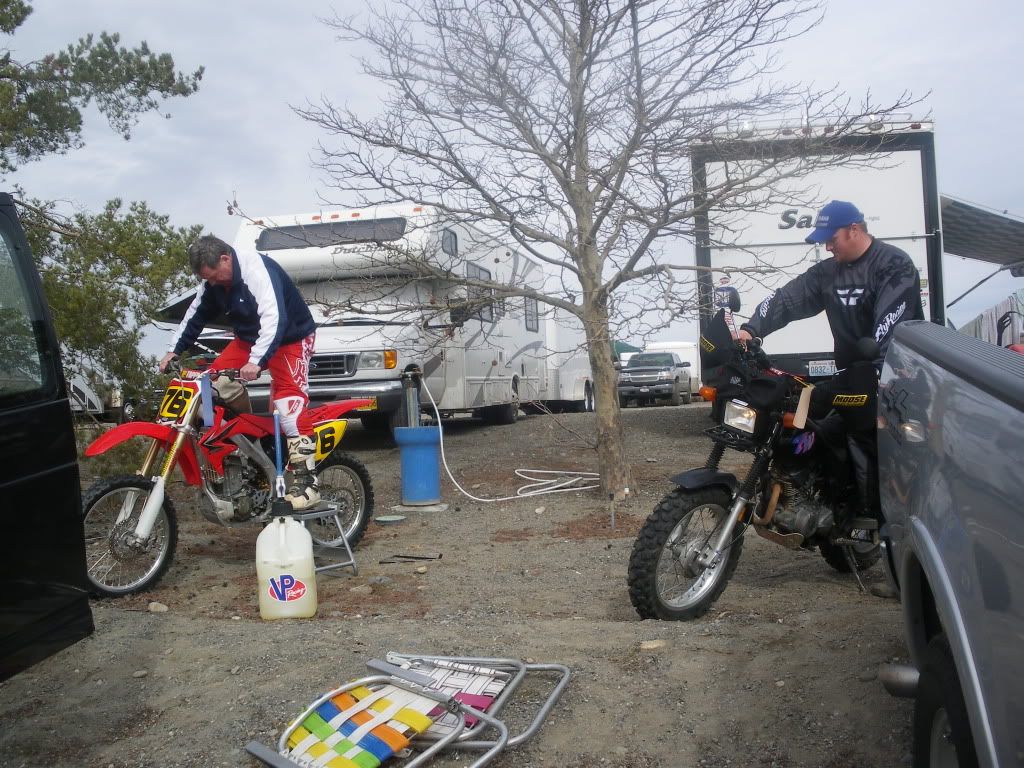 Race ready:
This was the "parade lap" before the start. Notice me in the back. I'm the only one in the picture with a headlight: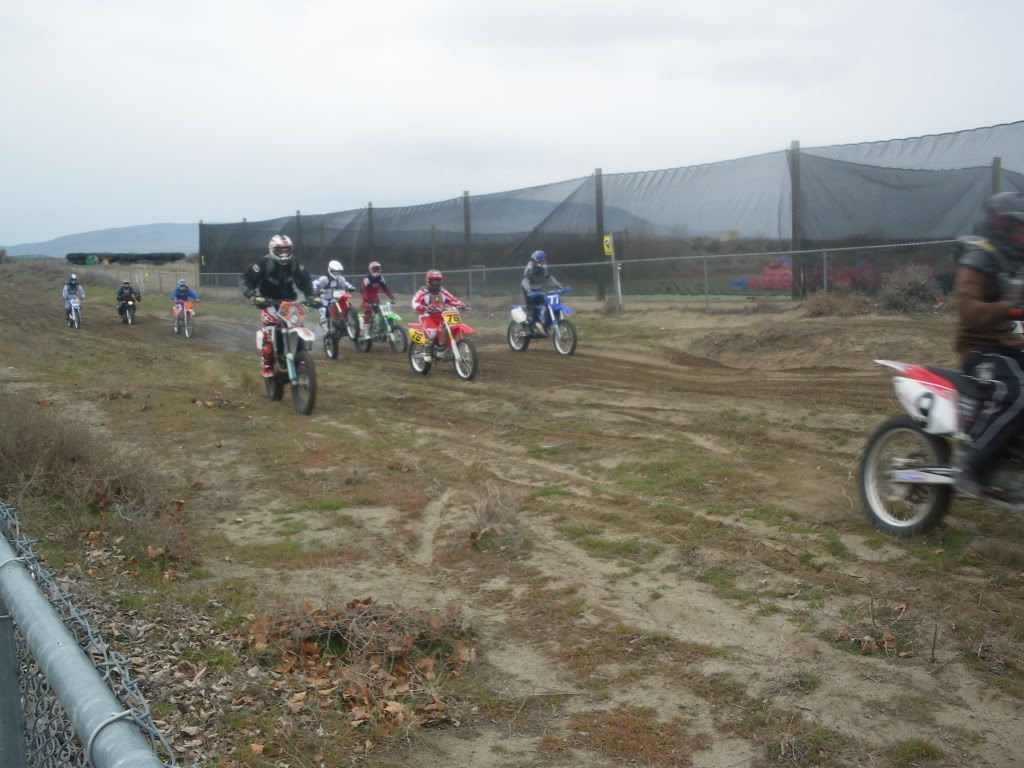 Here I am. Me and the TW bringing up the rear during the "parade lap":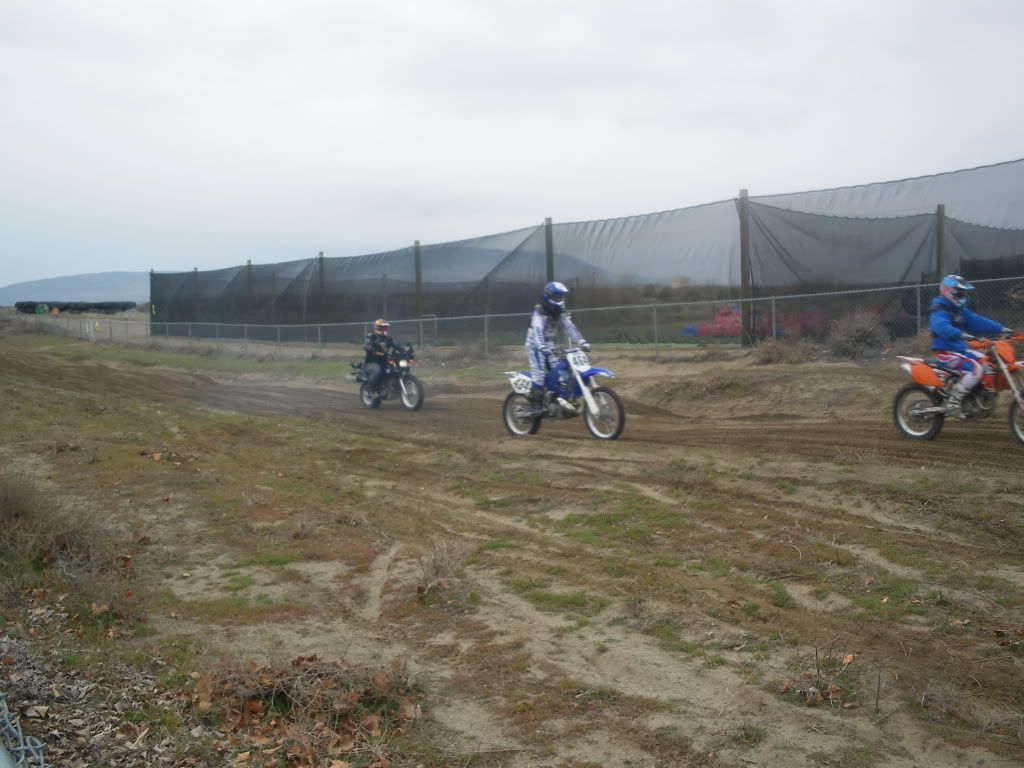 Here is the the route from my GPS. Ten mile loop, two loops. "TRK PIT" is where I parked. I waypointed it just in case I couldn't handle the race and had to make it back to the truck.
Hopefully my mother in-law gets me the rest of the pictures soon.
We took a "parade lap" which was only about a quarter mile. The bike was all over the place. The front tire was like a plow.
We got in line for a worker to mark our punch card. A worker looked right at me and said as he chuckled, "You're gonna have fun on that thing." I said, "I hope so!"
It was a dead engine start. We had to stand in front of the bike with the front tire between our legs. I had NO CLUE as what to do. I've never raced before. My riding consists of mountain riding looking for deer and elk with my dad. There was probably 80 guys who entered, so they lined us up in four rows. Each row started separately. I was in the last row. The three rows ahead of me were gone, so now it was my time to go. The buzzer sounded, I got onto the bike, hit the start button, and I was off! Did I mention that the WHOLE track was sand? I spun going off the line but off I went and I looked up and everyone was GONE! I couldn't see anyone and I hadn't even made it to the first corner yet.
So I make it around the first corner and onto the track. The route we took wasn't on a motorcross track, rather it meandered through the sagebrush. I don't ride on sand much so I'm fighting the bike. The front tire wanted to burry itself in the sand and the rear just spun. I finally calmed down and let the bike wander where it may. I stood on the pegs to soak up some of the bumps that the TW's suspension couldn't handle. I ended up standing the whole time.
If I wasn't turning a high banked corner, I was getting my head shaken up by the whoops. If I wasn't getting jarred by the whoops, I was in a high banked sandy corner. All the track consisted of was sandy whoops and very deep sandy turns. There was no stretch where I was able to take a breather.
I was getting tired, very tired, but I was having fun and I wasn't getting run over. I figured at this point I've gone a lap so I look down at my GPS and I've only gone three miles! I had seven more miles to go just for the first lap!
Guys started to lap me. I was told, by my father in-law, to ride on one side of the track or the other and let the rider behind you pass you, so I did. I was going about 20 miles per hour and they were going at least 40. No one cut me off, yelled, or gave me the finger, so I figured I'm riding correctly as the slowest person on the track.
All the volunteers cheered for me when I passed them. Their claps and cheers kept me going.
I finally made it the the check point. The check point is at the end of the first lap, or ten miles. I pulled up to one of the workers to get my tagged punched (we all had a plastic strip attached to our handle bars). He said, "Hey man, you got balls to ride that thing. Good for you." I thought that was pretty cool. I left the check point like a rocket and I was off on my second and final lap.
The second lap was much like the first. I seemed to get a little better and I could feel my confidence building.
I went around an uphill corner and my bike slowed. I looked down and I was buried up to the skid plate! I shifted down and used my legs to push the TW along. I got out of it and along I went.
About two miles from the end of the race I got a little off balance and fell on my right side. I pushed myself up to find my hand firmly grabbing the clutch lever. The bike was just sitting there running waiting for its rider to get back on. I hopped on and shifted into first and away I went.
I rounded the last turn and found myself on the home stretch. I looked up and I could see the check point and my finish line. All three guys who were there punching tags were jumping up and down and clapping for me. The guy punched my tag and said, "You should get the man of the race award. You did great, and I'm happy to see you made it. Good for you man." I was happy that I made it and that the bike made it.
I putted up to some ladies who were checking the riders punched tags. She checked mine and told me I placed 20th out of 26! I wasn't last! How did that happen? I started last and never past a soul.
I had a blast. It took me just over an hour to finish. I am very sore today. Would I do it again? Maybe. I'm glad I did it. I didn't enter to win, I entered to prove to myself that I could ride the track with the TW. Is the TW a motocross bike? No. Did it hang in there and get me through the race? Yes it did. The TW wouldn't be my first choice for the track, but its my only choice, so I made it work and work it did.