Discussion Starter
·
#1
·
Plans came together following a heavy storm yesterday and we geared up and headed out this morning around 10am. We had a general idea of where we wanted to go and went at it !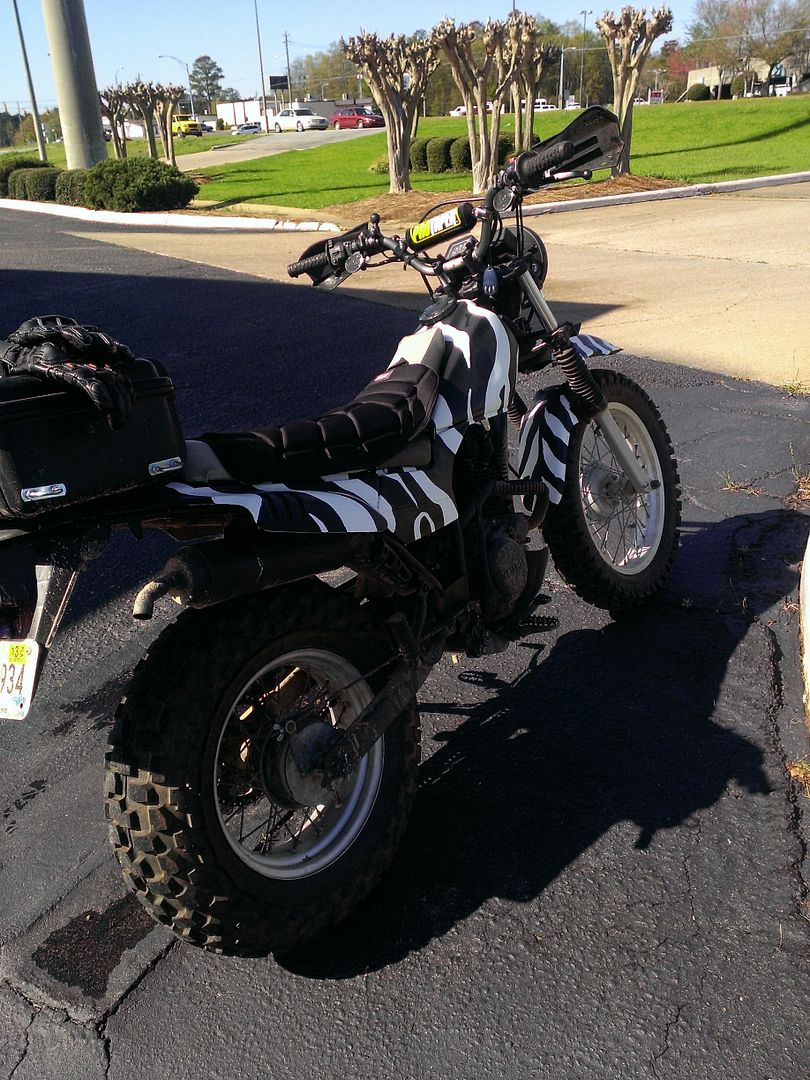 Me waiting at the Shell station for N202 to show up. He got there right on time ! We headed East towards Columbia Alabama and the Coheelee Covered bridge that's there. You may have seen a photo of it from me a while back on one of the photo tag game posts.
Then: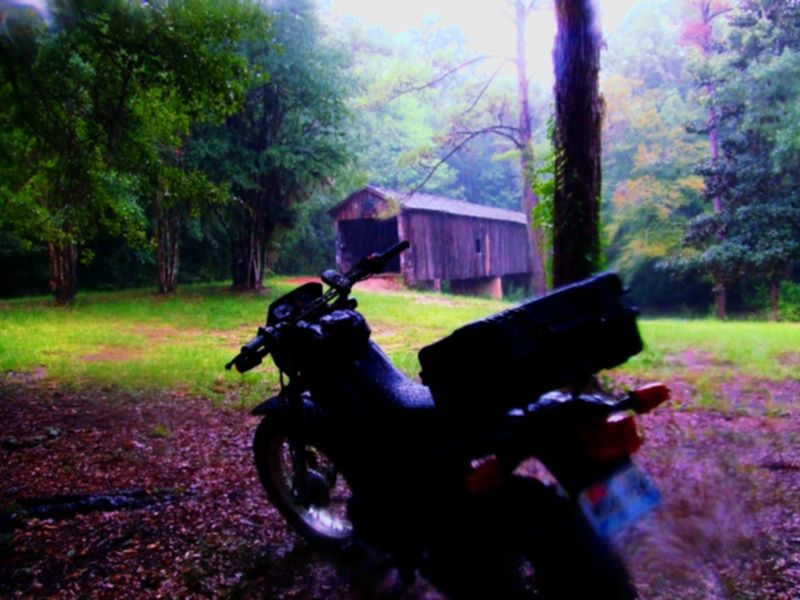 Now: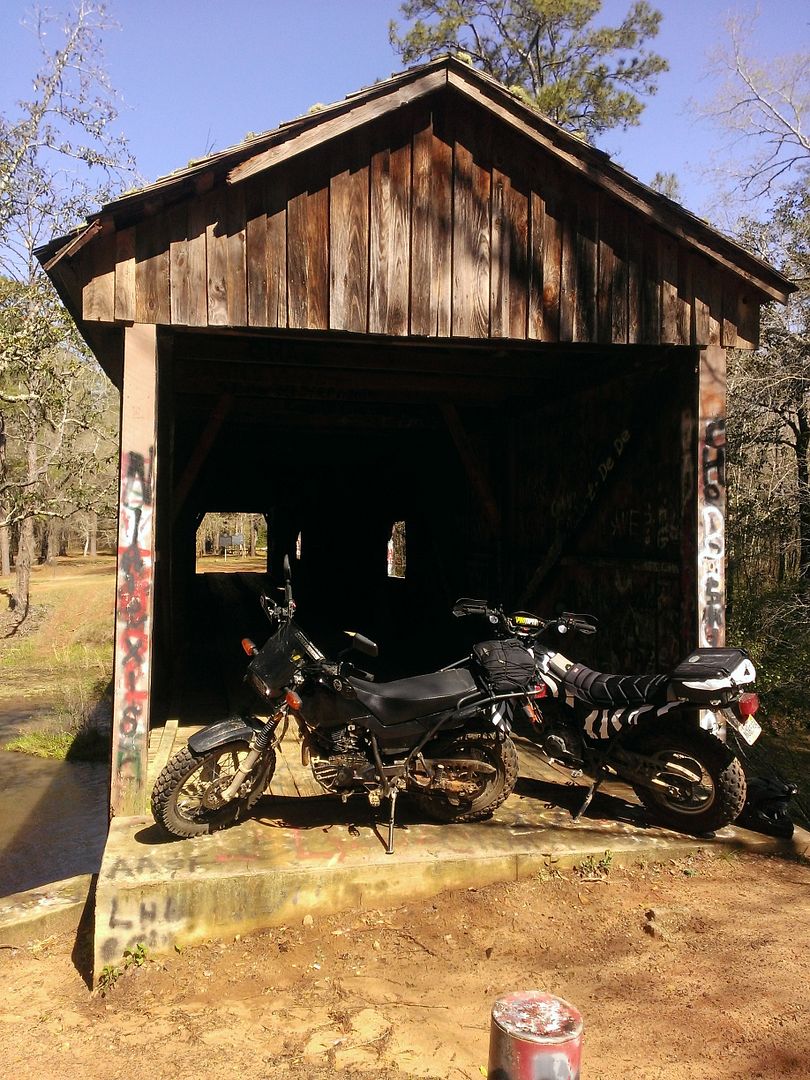 From there we headed north along the Choctowatchee River
Towards Fort Gaines, Ga. We found some really nice dirt/mud roads that some family that owns the land was nice enough to take care of for us. They apparently run a Hunt Club so we stayed in the areas that weren't for that particular hobby. We happened upon some really nice trails/fire breaks and explored around farm fields, saw pig tracks and some deer tracks but we decided we wanted to forge a trail..
I was honored to be given the lead as we threaded our way through the underbrush and planted pines. They were nice enough to have burned off the scrub a season or so back, so it wasn't too bad.
We ended up at a fence, so we back-tracked a bit and found another really nice trail. Unfortunately, it ended with a huge tree blocking it right at a creek crossing.
Never fear, the Tdubs were there and we had a plan !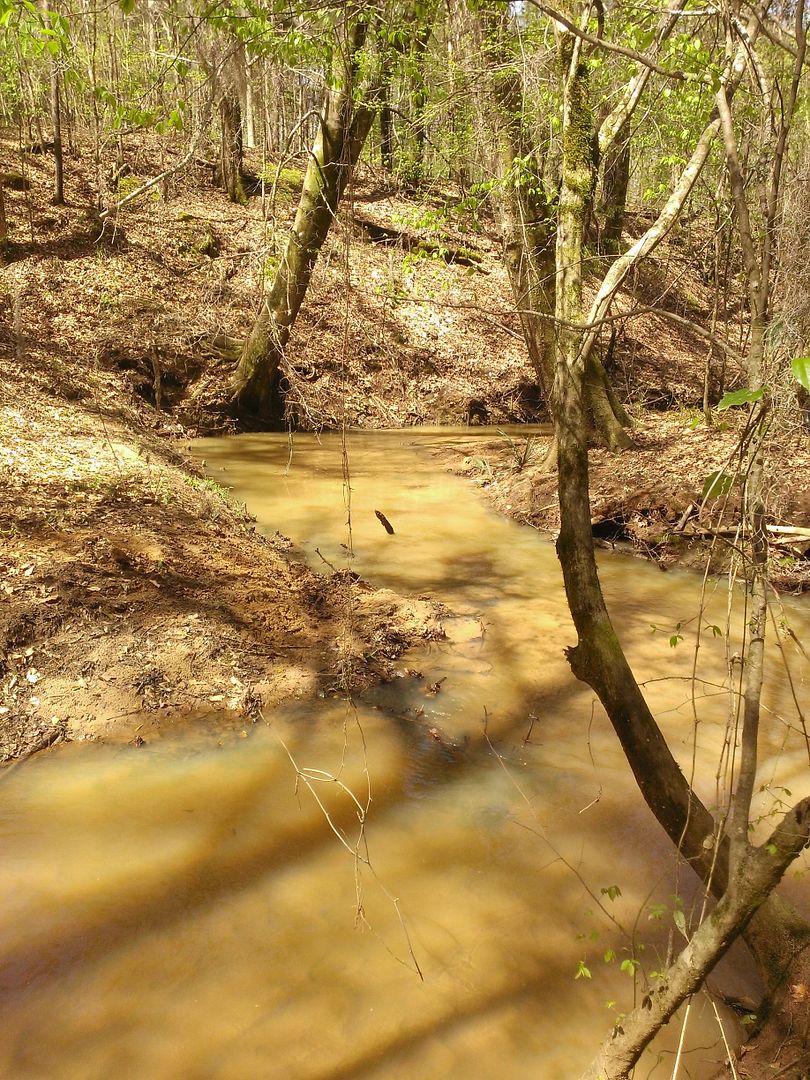 We entered from the left bank and headed away from the picture to the left of the stick poking up (depth test). We followed the creek to the right where we we able to go back up the bank.
Did I mention that the beasts we riding had NO PROBLEMS ! Oh, we also realized that we could have scooted around the tree up creek and crossed a lot easier. But that wouldn't of been nearly as fun and adventurous !
Several times we stopped and discussed just how much fun these bikes were. Even though before the trip started both of us had talked about 1200GS's, KLR's and CRF250L's (me, I'm cheap). But on our breaks, I kept thinking to myself: "Precious, there just isn't anyway in hell the first two bikes would have been able to do a lot of the stuff we had already done. And more than likely, we would have already been worn out and ready to go home.... back to the story.
We ended up on some country roads trying to find some buildings that N202 had seen from the air while flying. We found what we were looking for and managed to follow someone else's trail back there. Along one of the cinder roads, I had noticed some foot print, but we will get to that in a minute. I wish I had been able to crab my phone and take a picture of what transpired next...
I like to ride second. Dunno why, just do.. Nice wide road, not too slick and there was a big puddle ahead that screamed: " fly through me!!". As a bonus, I timed it just right to pass N202. Hi jinx were just part of our whole day! He got a wall of pretty chilly water splashed at him getting him pretty wet! When I stopped and he pulled up, I thought he was going to be pissed. He wasn't (thank goodness) and had a huge grin on his face. It matched mine! We got him dried off and his shield cleaned (he had only cleaned it 20 minutes before and it REALLY needed it this time).
So we ride up to this big abandoned building.. I think it was a pulp mill or something at one time. A N202 was exploring, I noticed that in what appeared to be a maintenance shop there was a home made grill and some other stuff that looked like they belonged to someone... We moseyed on around looking for some of the other buildings when we saw the foot prints again. Raised some hairs as we weren't exactly supposed to be where we were which meant neither was this guy. We went a little farther until we came to a ground blind
. No hunting back there either, time to bug out!! We did and got back going again.
Cruised into Fort Gaines, gassed up my bike and topped off his. Had a smoke and a coke and continued on.. Ended up mucking about around the lake looking for one of N202's buddies and then found some more dirt roads. Along one of them, noticed a powerline trail. Aren't many of those and when we had hit a dead end, I suggested we go check it out.
Powerline trail was awesome ! That is until I hit this berm:
Track down the middle is Sean's. The one down the center is my front wheel and the one to the right of that is my back. Slammed hard on to my left side with my arm tucked under me. Pretty sure I have cracked ribs.
Having a tough time getting around right now.... So I'm sitting here typing our little story. I tried to keep going, but after about 30 minutes of more trails that I wish we could of spent the rest of the day on, I ended up having to call it quits.
So we headed home...