This project may take a while to gain momentum, but I hope to have it up and running by mid-spring.
I've got one of PlacerLode's counter shaft extenders, so I've been looking for a suitable XT/TTR engine donor.
Well, I found this little gem on Craig's List, only 8 miles away!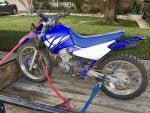 It's a 2004 TTR225... it's a little rough around the edges, but generally in good shape. I'm hoping to part out quite a bit of the stuff I don't need, to offset the cost of the build.
My basic plan is to use the TTR engine (obviously) with the TW left side case and shaft extension.
I also want to install my right side TW case, with all the kick-start hardware... that should work, right?
The stainless header is a bonus! I'm also going to try to use the TTR muffler... the cap and spark arrestor are gone, but the baffle has not been drilled. If I can fit this to my TW, and use my existing cap and spark arrestor, maybe I'll finally have a reasonably quiet running motorcycle!
I'll figure out how to mount the steel tube skid plate... and that handlebar mounted choke knob will find it's way to my TW as well!
I'll have to look closely at the carburetor. I like the pumper that I'm running now, but if the factory TTR carb is in good shape, I may give it a try first.
Anyhow, this weekend I'll get a closer look, and add some more photos. The tear-down should commence pretty soon.
This is going to be fun!
ccasion14: