Discussion Starter
•
#1
•
FOOT PEGS - FOOT PEGS - FOOT PEGS!!! Lets face it, we want to talk about ever minute, tiny nut, bolt and washer available to/for our TW200's! I just picked up my first one yesterday! And while I have been on the forum for the past week and ready countless threads, I hope we can all continue to build our resource pool! So lets keep this thread
STRICTLY FOOT PEGS!
It seems we are very limited in our choice of offerings from the industry at large, thus with further researching this awesome forum and the insight of its members, I came across
lizrdbrth
's post "TTR STUFF FOR TW'S"
http://tw200forum.com/forum/performance-customization/2269-ttr-stuff-tw-s.html
as this may offer a solution for more FOOT PEGS!
FASTWAY - PRO MOTO BILLET
- ABOUT:
https://fastwayperformance.com/support/about.html
I had a set of these on Fastway pegs from Pro Moto Billet, but upon searching their site, type in "TW200" and you get ZERO options! Type in "TTR225" (of course you have to start with a date, so I put in 2014.)
These are the results found available and hope these will actually fit!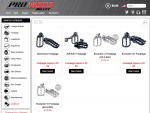 https://fastwayperformance.com/footpegs/footpeg-products.html/?find=2014-yamaha-tt-r230-3426672
IMS PRODUCTS
- ABOUT:
IMS Products : About Us
I have IMS pegs on the XR400 and they are great, so here is their option for the TW200: 1987-2017 Yamaha TW200 Super Stock Footpegs
IMS Products : 1987-2017 Yamaha TW200 Super Stock Footpegs