Thought I would start a build thread for my bike. Picked my first TDub up in October and I've been slowly making it mine over the past few months. Lots of inpirational builds on this site and I hope to make mine at least half as cool. Some images below show the before and after so far. I'll just post up here randomly to show my progress. Thanks!
Here are some images of the bike when I bought it on Oahu. Title says it had around 7000 miles on it. This is a 1987 so I hope the dreaded CDI issue never shows up.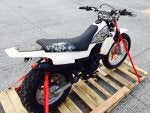 Here is how the bike looks now.