The older thread below has been a huge help for me in understanding how to set the float. (The thread seems to now be locked, or at least I couldn't find a way to add newer comments. Hence this new thread.)
http://tw200forum.com/forum/technical-write-ups/9680-setting-float.html
I was particularly interesting the idea of using the "clear tube" test to confirm (post #6) that the float is set correctly. After taking the carb on and off a few times I realized that the test could be done with the carb sitting on the workbench. This way, the float could be adjusted as many times as necessary -- and THEN, when correct, put back on the bike.
Here are photos of the system I came up with.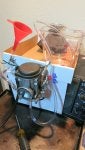 The set-up is an 8x11 shipping box that I cut a notch into, where the throttle bracket can be hung. In the photos, the box is sitting on top of a toaster oven; the white paper in back of the carb is there for contrast. At the back of the box is a weight to keep the whole thing from tipping forward.
The small funnel is fitted to the intake, and the clear tube from the overflow outlet is kept in place with the push pins. A kitchen measuring cup is used to start the siphone and catch any excess, and for when I need to dump the fuel to make another float adjustment. Under the carb is cookie baking sheet, with raised edges, to keep runaway fuel off my workbench.
I hadn't seen this approach mentioned, so I thought it may be useful to someone.