Discussion Starter
·
#1
·
So I just finished installing my new Trail Tech Endurance II on my bike. I was hoping for more posts of others doing the same to gain a little guidance.
So I improvised, and "Jerry Rigged" a bit to make it work.
I use a mount that I had from an old mountain bike, 'Cateye', to position the sensor close enough to the magnet that I mounted on the front wheel with JB Weld. (See Pictures)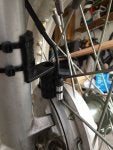 The only think left to do is connect the power to the battery. (It will run on battery, so I'm not sure why it needs to connect to the battery) Not sure how to do this part yet. If anyone has any suggestions, that would most helpful!