Discussion Starter
•
#1
•
It "finally" (free 2 day shipping, but it always feels like forever!) showed up yesterday: a Trailtech Vapor TW200-specific stealth (black) kit and the dashboard with lights. I decided I "needed" one after the drop this winter that trashed my (incorrect anyway) speedometer.
I noted that there weren't really many people documenting their installation of this particular accessory on the older bikes, including Trailtech themselves, who are very clear about how to do it if you have a disc brake. In fact, the only one I'd seen post pictures of their method of mounting the speedo sensor/magnet was PJungnitsch, and he noted that he didn't even like how he did it.
Here's my initial impressions upon opening the boxes:
Dashboard looked good, felt fairly solid, although it wasn't obvious when I bought it that it was made out of plastic: a bit disappointed, but it still seems sufficient. The 4 light positions are well made with rubber sleeves to facilitate swapping them in and out and isolating vibrations: a big thumbs-up on that.
The actual computer seems like a very solid unit, the buttons give good clicking feedback, and the screen is very clear and easy to read. Not much to say here, big thumbs-up again.
I'll echo other words and say the power and tach wires are tiny and feel fragile, but seem to work fine.
I don't know if it was a mistake or not, but I didn't get a bracket to mount it to the triple clamp, I just got the two sizes of bar-clamps and the piece to mount to the computer. It didn't take me long to decide I wasn't interested in that piece (and I didn't use it, as I'll show below).
So far so good, but same as others, it looked a bit like a daunting install.
First thing I tackled was the speedometer sensor: I liked PJungnitsch's method of epoxying the standalone magnet to the back of the spoke hole. I just hope I don't ever plan to remove that spoke.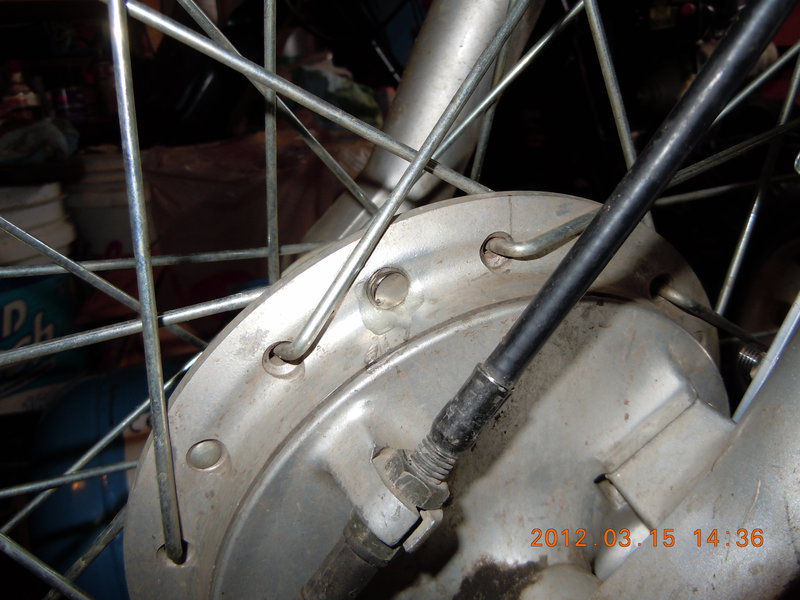 I decided to build a hard bracket to mount the sensor, since it seems like it should be fairly close to the magnet. I used a 1" pipe clamp from Tractor Supply, this setup seems to allow for a good amount of adjustment, in the case that I screwed something up. The NYS LEOs and motorcycle inspector will love me for covering up my inspection sticker. I'll have it moved up a bit this year.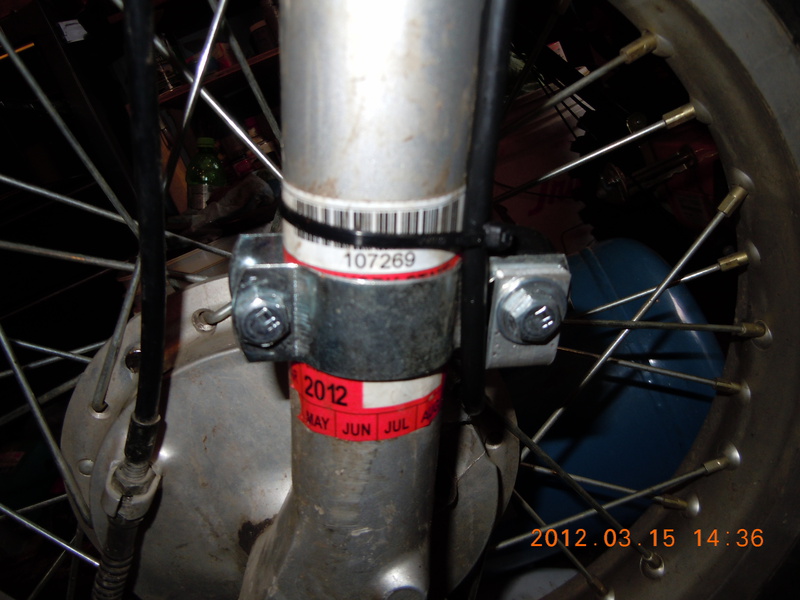 While I was at TSC, I picked up a few pieces of aluminum (3/4" wide x 1/8" flat stock, 3/4" wide x 1/6" angle) for use in mounting all of this up. I used a piece of the flat stock, roughly 5" long , bent and drilled twice: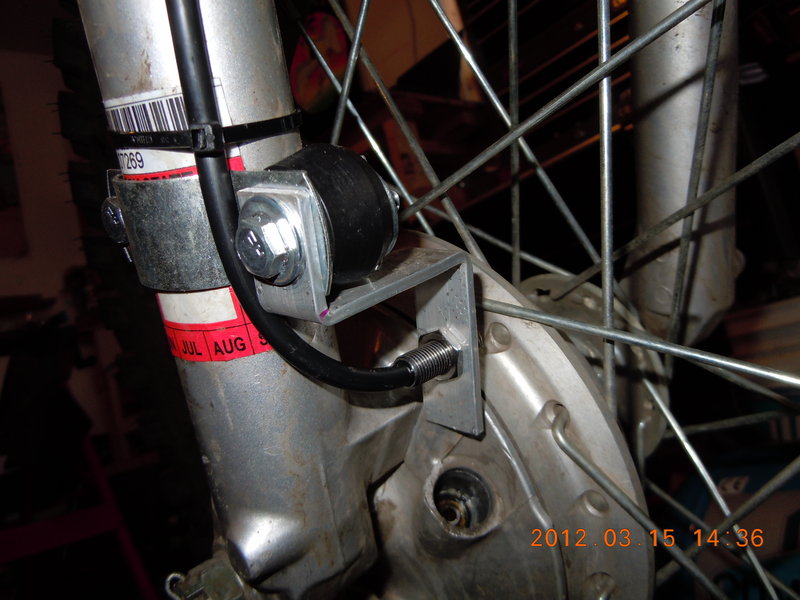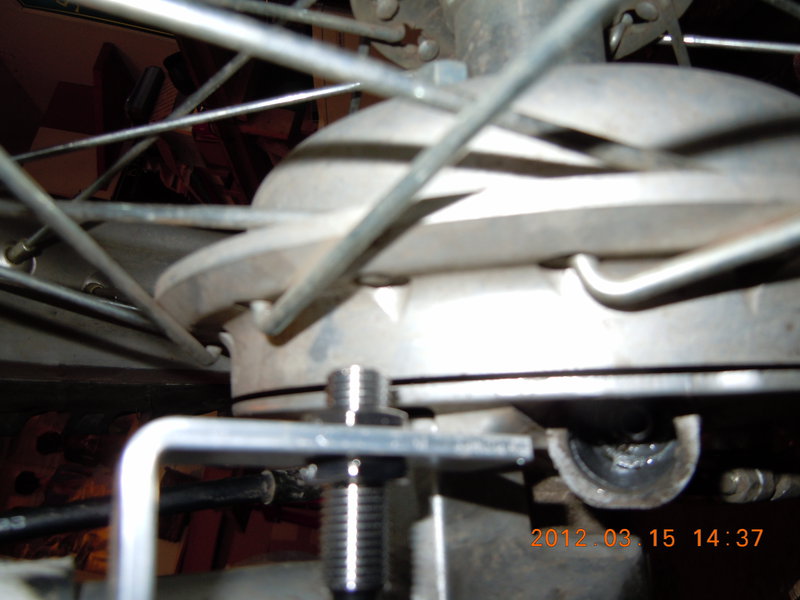 I routed the cable and zip tied it in place, using the same guides as the old speedometer cable. Now I just need to figure out how to plug the old cable hole in the drum backing plate.
As I mentioned above, I didn't really like the included mounting brackets for the computer, so I used the aluminum stock I bought to make a new bracket, roughly centering it in front of the ignition, but keeping it low enough to stay out of the wind/rain: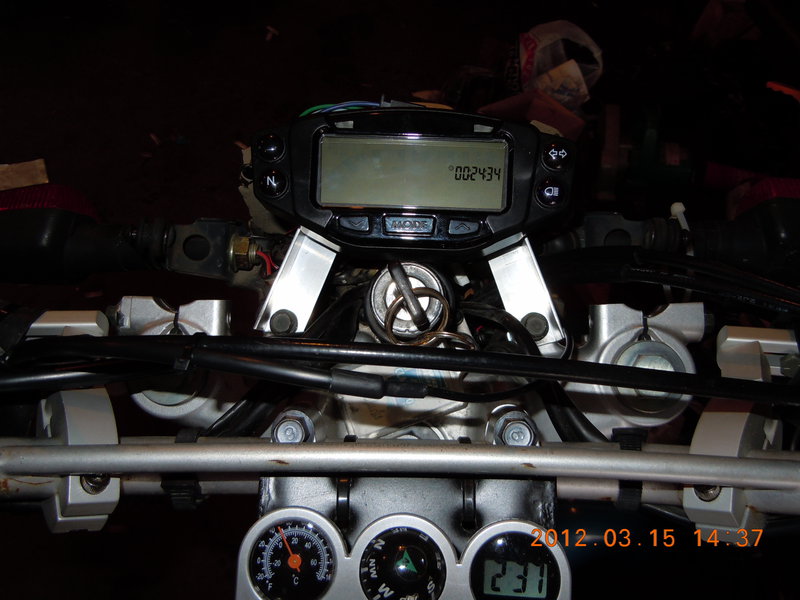 The bracket I built is 3 pieces: 1 is just a C shape with hole drilled in 4 places: 2 match the mounting points on the computer, the other two are down on the sides to attach to the rest of the bracket (aluminum angle):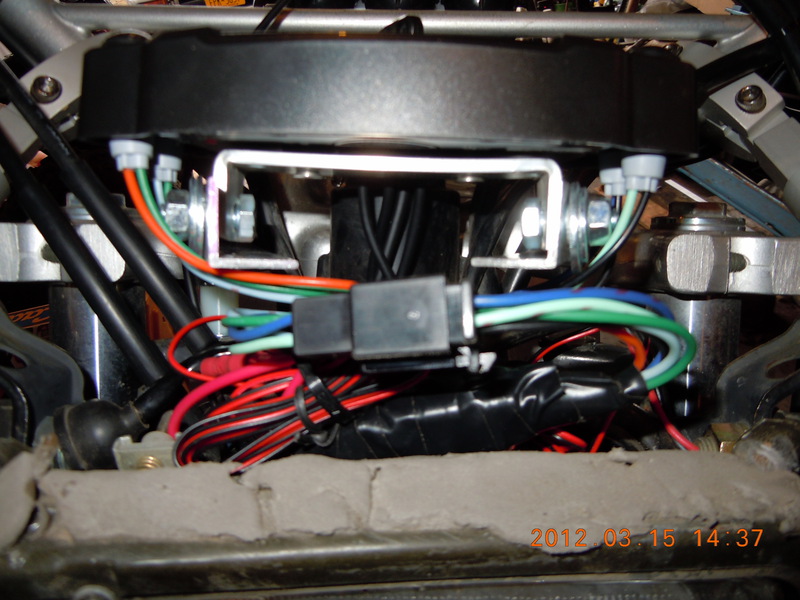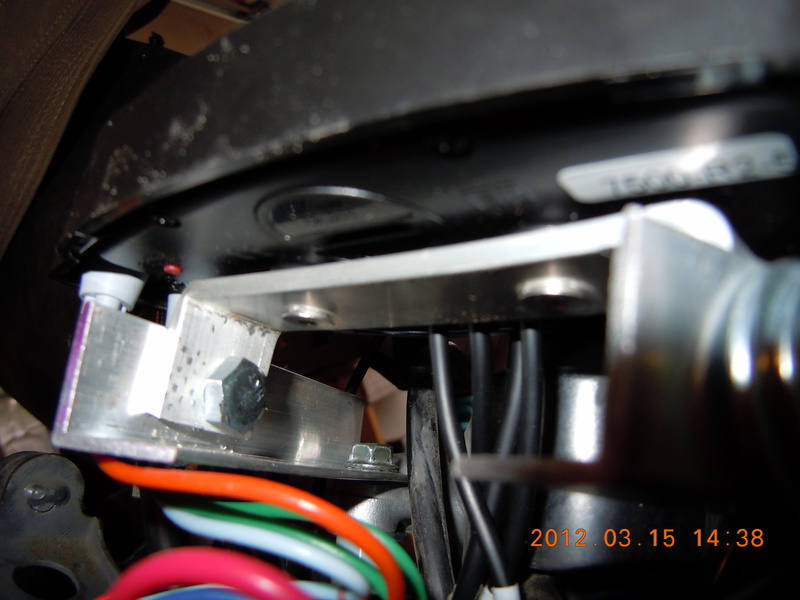 The angled stock is cut into two pieces of equal length (depending on how far out one wants it) and drilled slightly larger than necessary to allow the bolts attaching the computer bracket to come through at an angle; I used a washer on them for good measure.
The angle pieces on the other end attach to the same bolts that were used to attach the old speedometer/light cluster, and I bought a pair of 5/8" tall nylon bushings and a handful of washers to take up the space so I could actually tighten my mounts down: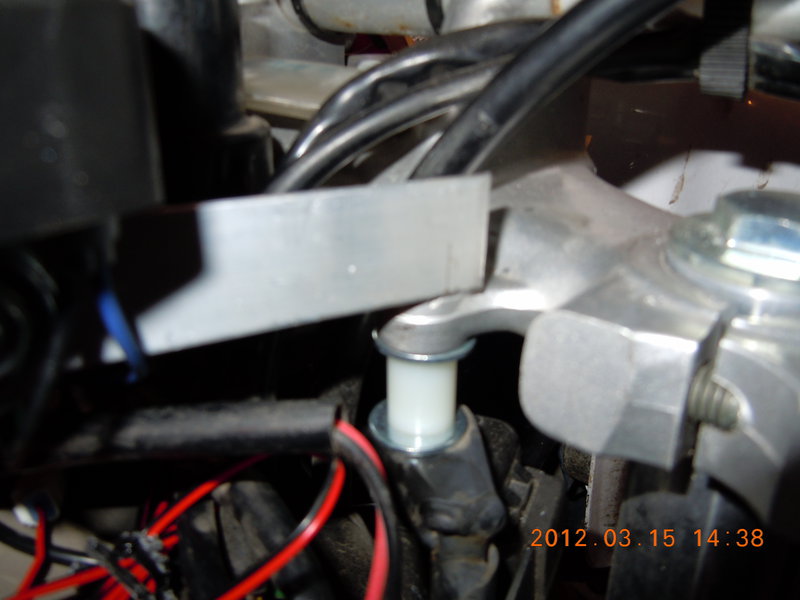 I think it came out fairly well, I haven't done any testing of the unit since I installed it: this was literally a rainy day project. Finished view from the seat: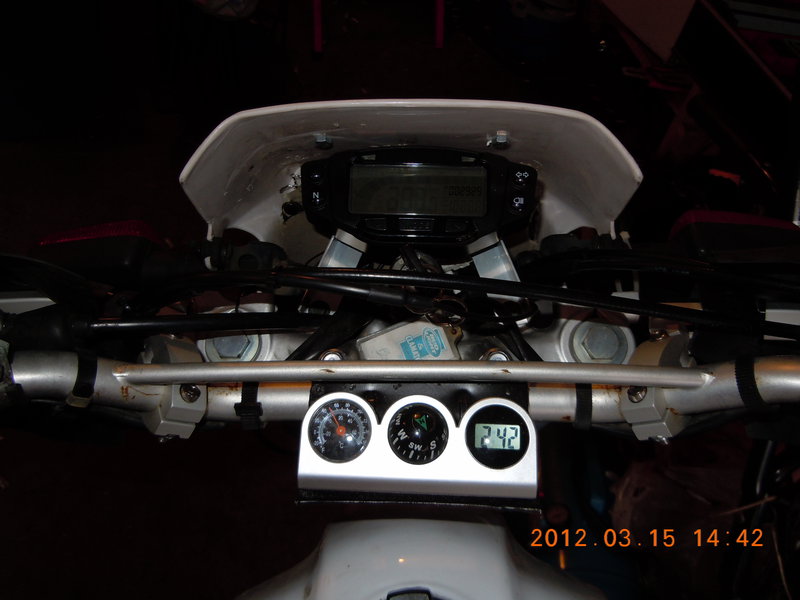 Wiring was "somewhat straightforward". I used the top motor mount bolt for the temperature sensor, and don't know how that'll work out. I tried it on the spark plug and really didn't like it there. I cut my old wiring whip in half for the light cluster and put bullet type connectors on the wires so I could shuffle them around as I wanted to. I had 1 ground left over after modifying that whip; so I used it for the computer power, and home-ran a positive wire with an inline fuse back to the bike's battery. TT says it won't run the battery flat, and I'll trust their word on that given how long they estimate it'll run on a CR2032 button cell, so I didn't bother tapping into switched power or anything like that: its "always on". (goes to sleep after 20mins of not touching it or starting the bike).
Biggest thing to note: its a lot of wires to stuff behind the headlight, and we'll see how that works out in the long run. If anyone wants more pictures, let me know and I'll snap some when I inevitably have it apart again.