Discussion Starter
•
#1
•
Hi all, so it's been too long since either of my TW's have been on a trip and with perfect riding weather predicted for this past weekend and two friends who recently bought their first dual-sport bikes (one an '07 TW which formally belonged to yours truly and the other a '12 WR-250) four of us decided to take a quick trip up to Big Bear for a day trip.
The trip began with the four of us trucking our bikes to the Mill Creek Ranger Station just outside of the town of Mentone (near Redlands). We un-loaded, geared-up and hit the road! I was elected the leader of this ride since 1) I'd ridden the loop we wanted to do before (well, at least part of it) 2) I had an (outdated) map 3) I had firm lunch plans for all of us at one of Big Bear's best BBQ places.
My plan was to ride to Big Bear and back as much as possible on dirt roads, to that end we succeeded doing just 7 miles of pavement in our 35 mile ride to Big Bear however the first two miles of our journey from the ranger station where we left our trucks to our first dirt road was Hwy 38 which gave us all a chance to get a feel for our bikes. Prior to this trip I'd re-built the front ends on mine and my wife's TW's and installed a larger, more aggressive front tire on my wife's bike.
Once we hit our first dirt road we took a short side-trip to the Morton Peak fire look-out. Less than a 20 minute ride from where we'd started it was a great place to make sure everything was working the way we wanted and then we explored the look-out tower for a while.
Morton Peak Fire Look-out
The four steeds ready for a day in the dirt
We left the look-out and continued on the dirt road (1N12) deeper into the forest, stopping at Angelus Oaks 15 miles later. Our two freinds with their new bikes were doing great and my wife was in-love with her new front tire and I was pleased that the fork seal I'd changed a week earlier was holding.
We jumped back onto Hwy 38 for less than a mile before we turned-onto 'Middle Control Road' which is a fun little un-paved short-cut to the small community of Seven Oaks. The terrain so far was mainly dirt with just small rocks here and there. The roads were all graded well with few ruts, it was perfect weather and perfect dirt, I was a happy boy, as were my friends.
Along the way we passed the cabin where the hunt for Christopher Doner ended earlier this year. This is the cabin where he was eventually killed. During the stand-off the cabin caught on fire. This is how it looks today: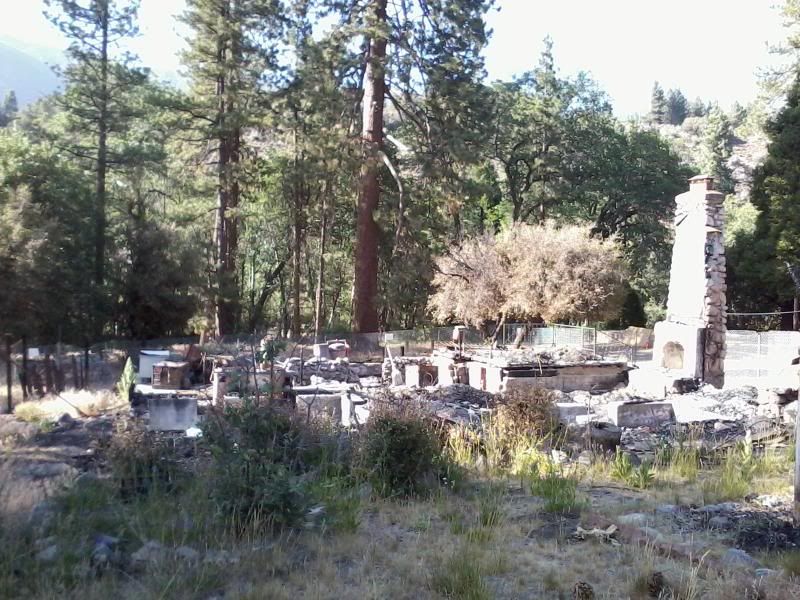 Moving-on from that we continued to the Converse Fire Station where we (after I studied my map for a few minutes) turned onto another dirt road (2N06 depending on who's map you're reading) and began the big climb towards the top of the mountain.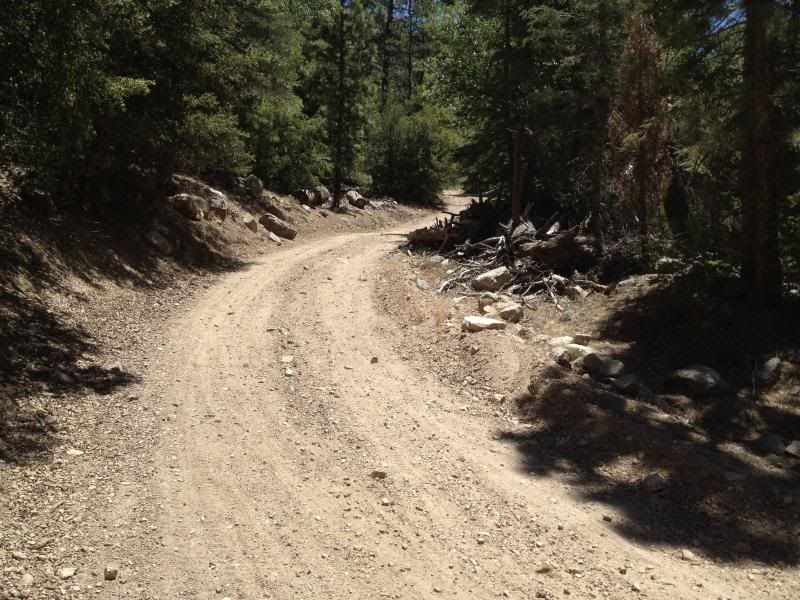 My vision of heaven
There are two main dirt roads from Seven Oaks to Big Bear, I'd been on both in the past and chose the less steep and rocky of the two routes. Along the way we were treated to breathtaking views of the valley and the high peaks above us. The trail grew rockier in places but no one seemed to be having any problems and soon we were on the Skyline trail high on the ridge which separates Big Bear from the lower-portions of the mountain.
Thus far we'd largely had the trails to ourselves except for a couple of 4x4's but now as we rode closer to Big Bear we encountered more runners and mountain bikers. I'd find-out later that we we're actually riding on part of a Triathalon route!
We arrived in Big Bear, stoked that we'd made it with no crashes, break-down's or drama and we could all taste the BBQ lunch that was waiting for us just down the road.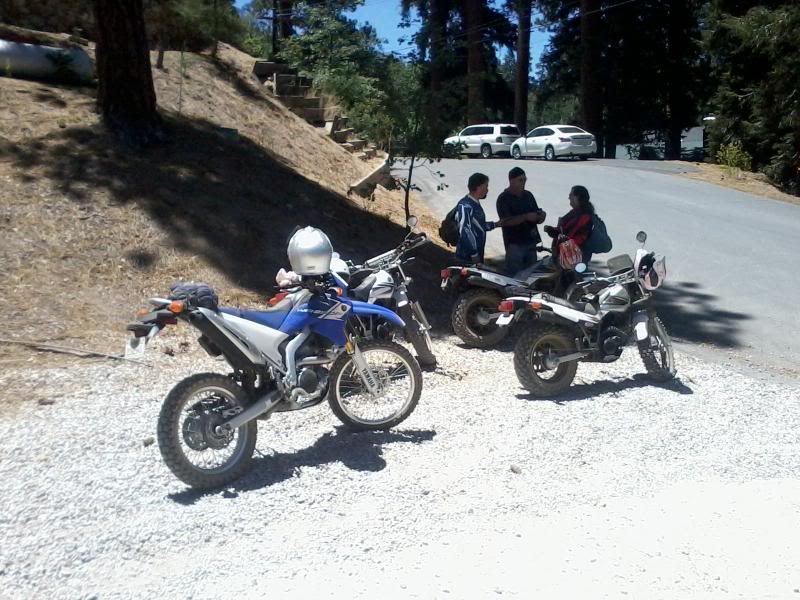 We met my stepdaughter and her husband who were in-town for the weekend at B's BBQ on the marina on the lake. We had some of the best Pulled Pork sandwiches I'd had in a long time and languished under the tree's watching the actvity on the lake and relaxing. If you find yourself in the area, it's a great place to take a breather.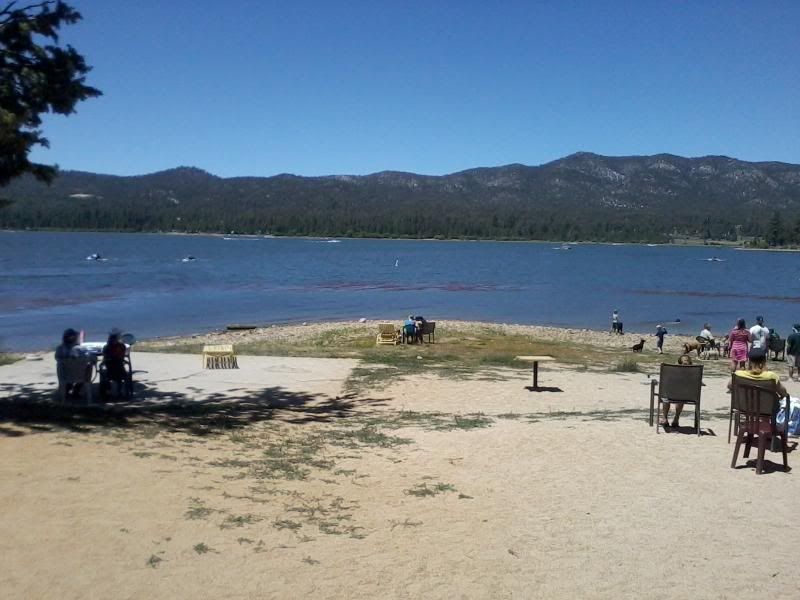 I have no idea what I'm looking at
Following lunch we took the obligatory group photo op then re-fueled in-town and followed Hwy 38 for ten miles out of town until we met-up with trail 2N93 which essentially by-passes Hwy 38 and drops you off near the campgrounds of Heart Bar and South Fork, maybe halfway down the mountain. This is where we started to have problems.
First, we were riding on the route for dual-sport ride (race?) which was taking place in the area. We had guys on big dual sports whipping by us at high-speeds which is a bit un-nerving. Then we found the rocks, they were all over the trail. Then my wife stopped watching our two friends who were riding behind her and lost them. Then the license plate broke-off my wife's bike. Finally I realized that our two friends were no longer behind us we stopped and I doubled-back to find our friends and look for my wife's license plate. I found both in the same place almost five miles behind us. Our group had gotten separated when Regina and I passed a Jeep and the other two didn't. They'd come to a fork in the trail and stopped not knowing which way to go. They'd also found my wife's license plate and lost a mirror off the '07 TW (it was a rally rough trail!). We all re-grouped, explained to my wife the importance of keeping track of who's behind you then re-mounted our bikes. That's when my wife's TW failed to start.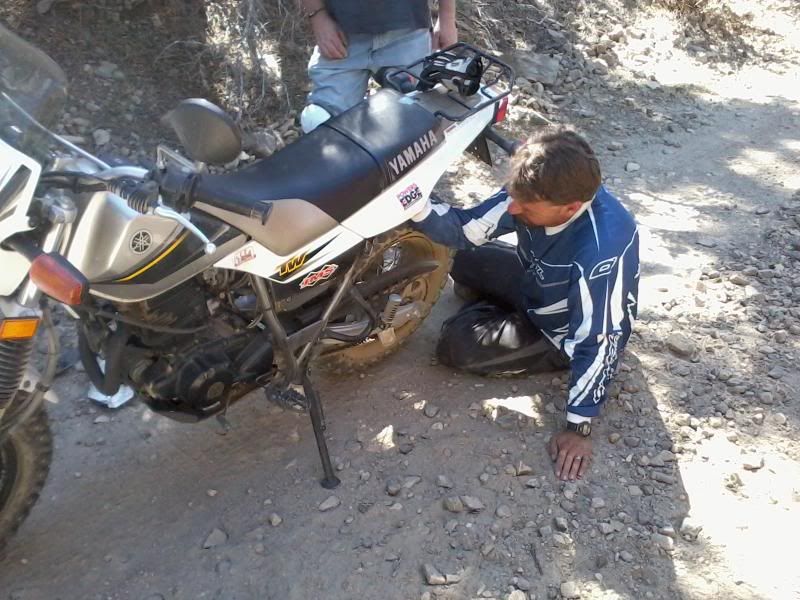 Hey Yamaha, I'd kill for a seat latch or a kick-starter!
The battery appeared to be dead, though I suspected a loose battery terminal (the trail was really rough!) We removed the seat and found both; the battery appeared to be dead and the positive terminal was very loose. This bike runs an Odyssey PC310 battery which has been installed since September 2007. This bike is ridden daily by my wife and prior to this moment, the battery was working fine. We didn't have a socket (7mm) to tighten the post so we got creative with a washer and a pair of pliers and re-attatched the cable. We (meaning me) then bump-started Regina's bike and we carried-on hoping the Stator would re-charge the battery.
We continued down the rocky, bumpy road (I hate rocks) our new front tires were helping but it was still a battle, our friend with the new WR had it the worst of any of us though as his tires provided next to no grip in the rocks. Finally we could see Hwy 38 ahead of us and we all enjoyed the five or so miles of black-top before our next trail.
The next trail we took is just a simple dirt road which runs along the Santa Ana River from South Fork campground to Seven Oaks. This road was just what we all needed; it was smooth (no rocks!) Flat and very scenic. Following that we rolled through Seven Oaks and again journeyed up Middle Control Rd back to Angelus Oaks.
Here we had to make a decision. It was getting late and we had either 17 more miles of dirt roads or 10 miles of black top in order to get to our trucks. After a short discussion we decided to take the black top, mainly because Regina's battery had failed to re-charge (it has a bad cell as I'd find-out when I got home) so we jumped on Hwy 38 and hit it hard for the bottom of the hill.
We arrived back at the closed ranger station, loaded our dirty bikes and tired bodies back into our trucks and headed for home. It was a great day of riding and hopefully will be the inspiration I needed to get me back on my TW more often!
Kevin