Discussion Starter
·
#1
·
My dad and I set out at 7 am to meet my father in-law near Vantage, WA to ride Fringe Motorcycle Club's Dirty Poker Run.
The course layout was good this year. Usually, they reverse it each year, but this year it seemed totally rearranged. Yes, we did ride a lot of the same areas as years past, but they put the hardest parts first. The nasty sand was ridden down hill instead of up. The last half was easier than the first, which was nice because we were tired.
The course was around 20 miles and my father in-law and I rode it in under two hours. We moved right along, not fast, but we didn't stop very much. My dad recently had shoulder surgery so he didn't ride...maybe thats why we went so fast!
Lots of people this year, probably four times as many as last year. The parking area was just about full when we arrived Saturday morning. The course wasn't crowded, but some of the check points became bottle necks.
I dumped the bike once. I let a rider pass on my left, and my front tire caught a rut and down I went. No video of it unfortunately. I got right back up and continued on.
I had trouble on the biggest hill on the course. It was a nasty rocky/sandy hill and it was long. I missed my shift into first, but I did eventually make it. Lots of guys had trouble with this hill.
Met
Irppcer
and his riding buddy. Nice guys. We didn't ride together, but we talked afterwards. I think we talked Irppcer into riding in Odessa in a few weeks.
Getting ready to ride:
Irppcer's riding buddy, Irppcer, and Rainman after the race: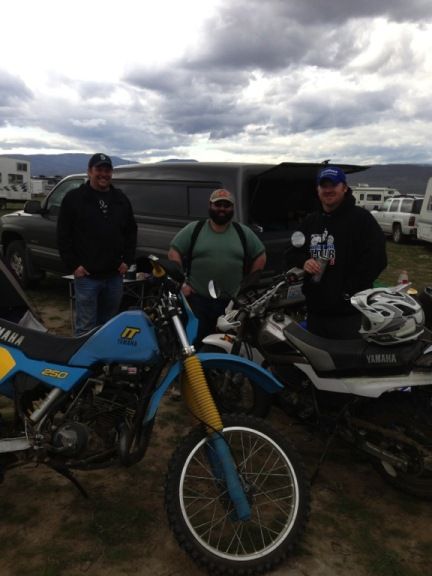 Rainman's dad was there to provide support. He got into the spirit by putting on his motorcycle jersey:
He had rotator cuff surgery. He didn't hurt it, it just has worn out. He should have made up a cool motorcycle crash story to tell people at the poker run.
After the ride. I was tired and sore:
[media]http://www.youtube.com/watch?v=txgaLu07uRM[/media]