Part I - TW200 Spring Ride in the Owyhee's
It's been a busy riding season and now that it's slowing down I'm catching up on some early season rides. With Mrs. Admiral this past spring in the Owyhee's on the Oregon/Idaho Border. We were able to ride some "cowboy singletrack". That's always fun.
Can't complain about camp
Spot some pre-historic pterodactyl tracks while out on my morning hike with Roscoe. Possible they are newer and made by some other kind of bird like create such as a crow 'er sump'in.
Roscoe taking to the hiking pretty well I'd say
Stopped at these old corrals near an old ranch we can't visit because of no trespassing sign. Gee-dang-it!
Later on we were gonna cross the creek but it looks like the creek has turned into a river. Not knowing how deep the water is and that it was flowing fairly swiftly, we turned around not wanting to chance it.
But not all is bad. We find some "cowboy singletrack" which leads us back out of the canyon a different way so we don't have to backtrack.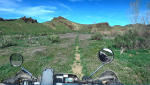 It was scenic and fun
Mrs. Admiral enjoying the "non-technical" cowboy singletrack
We end Part I at another swollen water crossing further down stream.
Stay tuned for part II.