T-factor, While I'm not familiar with all of the name brands you are comparing, I might clarify a couple of points of consideration for you. First tray width need not be as wide as the maximal width of your back tire, because the tire is only that fat several inches off the surface. I have two racks (a joehauler and a tiltarack (aluminum) and both have trays that are 5 3/4 inches wide (wide enough to hold the TW back tire and yes narrow enough that you want the bike lined up when you go in or out of the tray, but that would be true of any width tray because our tires could roll over the 1 inch lip of nearly any tray if not lined up correctly.
Hitch racks for hauling the TW are not ideal but they are damned handy if you don't want to screw with a trailer (size, registration, cost, etc.) I can load the bike by myself and so too could your wife, but smart money says have a second person there if at all possible to catch, guide, act as extra eyes, and pass the strap when it falls at the wrong time. I do know RickClick (this forum) has a hitch rack that has the feature of holding the bike by the pegs and not requiring straps. He loves it, but I can't tell you what model it is, but it may be in one of his old posts, or you can write to him for specifics.
I have an aluminum rack solely because its lighter to mount and carry from the backyard and thats so my wife can drag it out and mount it easier than the other one when I call her from the boonies saying bring the PU and rack and rescue me. So far that hasn't happened but it will some day and I'm thinking of her comfort (what a guy I am).
Good luck in your deliberations.
Fat tire in a 5 3/4" wide tray (this is the joehauler).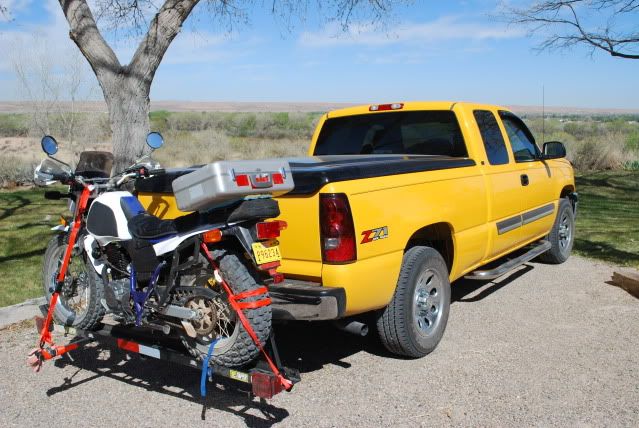 Tom