Discussion Starter
·
#1
·
My old high school friend and I met for our third-annual dualsport reunion in mid-October. He lives in Michigan and I'm in Maryland, so we alternate our destination each year. This was the "neutral" year so we picked southwestern West Virginia as our rendezvous site.
We found it difficult to locate campgrounds near the trails. The site we chose, Pinnacle Creek Campground, sounded good with a general store, gas, showers, etc. The one concern we had was that their website said the pictures are "coming soon". I doubt they will ever post pics of the campsites.
The gas and general store was a Marathon station on what turned out to be a busy truck road. The coal trucks ran 24/7 and frequently stopped at the Marathon station throughout the night. The campground was directly behind the gas station and consisted of a big gravel parking lot.
No worries, we both made our 400+ mile journeys safely and were ready to ride.
The first day we rode about 20 miles to get loose after our long drives. I was running on my reserve tank and ran out of gas about 1/4 mile from the campground.
Day two was very wet. We rode about 35 miles out on the muddy trails. At this point I started throwing my chain. I couldn't put any torque on the chain without slipping it off the sprocket. My friend rode back for his truck and I nursed the TW to a nice campground close by. We met up again after a 3 hour separation. My friend had some trouble finding his way back to the truck via the roads. Oddly, most of the locals didn't know how to cross the mountain to the town where we started. He eventually followed the coal trucks to our Marathon station.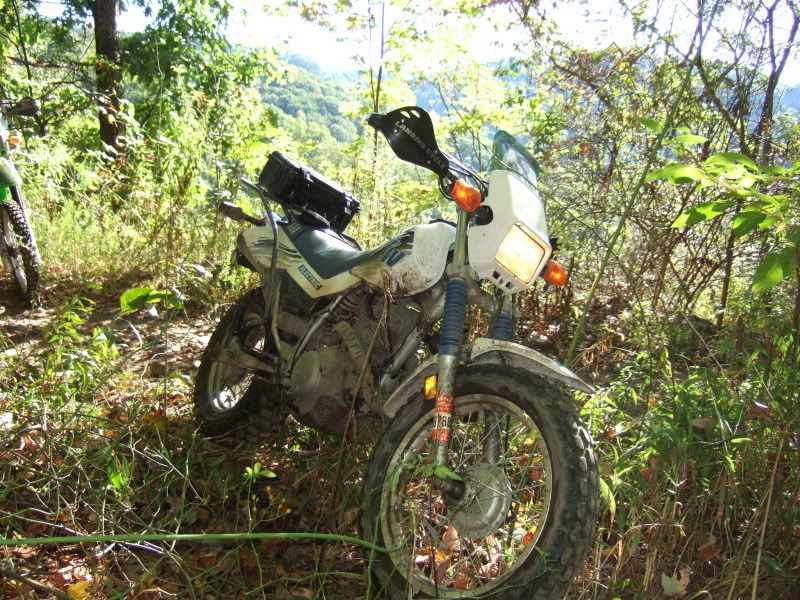 Day three was sunny and warm. We got my chain tightened and were ready to break camp. We went to a different trailhead and rode another 20 miles. This time I tried to pass my friend through a mud puddle while he went around it. I picked the wrong puddle! I got about 24" deep before stalling the TW. We pulled her out, but she would only idle after that.
Not my finest moments of preparation (I DID tighten my chain before I left, but the stock chain is junk and stretched more than I expected) or split-second choices. Luckily, my friend was patient and now we have a few more moments in our trip log to laugh about as we sip Pumkings by the campfire.