Discussion Starter
•
#1
•
I finally got my XT350 tank de-rusted, painted and installed.
I believe the tank is a 1999 CA model.
The tank had some very light rust inside. After looking at various methods of rust removal I went with the electrolysis method (commonly found on the internet) for almost a week and it did a great job pulling the rust from the tank. All that's left are a few oxidation marks that wouldn't come out. I added a fuel filter before the carb that will hopefully catch any remaining particles that I didn't get out.
I sanded the old spray can paint job down a bit and recoated with Dupli-color spray can bedliner. Went on very easy and looked decent. However I quickly discovered that it is NOT fuel resistant in the least. I assumed it would be - truck bed liner is tough stuff right? Wrong. Maybe the roll on stuff that claims to be resistant is better. At the 1st fillup I managed to splash some gas on the tank, and it causes the bedliner to become kind of gooey and soft. It seems to harden back up after drying for a bit but changes the texture and color of the spray. Oh well, I went for cheap and easy and that's what I got. It'll be easy to touch up if it ever bothers me, but most of the time I have a backpack strapped onto the tank as a tankbag so it's not really visible anyway.
I did have to mount the tank about 1/4" rearward on the tank pucks on the frame to clear the triple tree. With the handlebars full right I have around 2mm of clearance. Full left has more clearance, kind of strange that they aren't equal on both sides.
Thanks to the stickied threads and many many users who have posted about XT tank installs - there's a whole lot of threads from the old forum and the new that were carefully perused before moving forward with this project and every one of them was helpful. I won't mention names because I'd invariably miss someone. Also thanks to those that answered my tank questions and to CS1983 for a good deal on the tank.
http://tw200forum.com/forum/performance-customization/5933-synopsis-xt350-tank-install.html
http://tw200forum.com/forum/performance-customization/5944-clarke-xt350-tank-install-tw200.html
Apologies for the blurry pics:
The tank mount: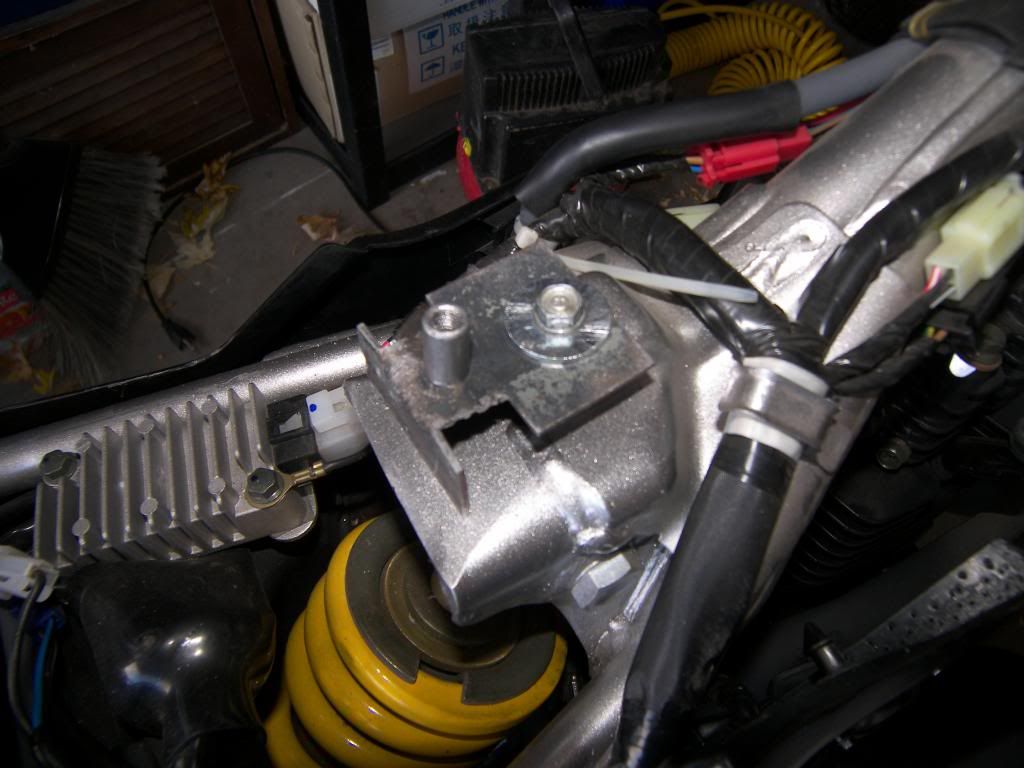 I bought spare XT bushings from ebay for the mount hardware - $15
Seat in place (and the dent in the right side visible). No cutting mods done to the seat - it'll go into place as is, but it does take a bit of wrestling. I haven't decided exactly where to cut that will provide the most benefit. It seems my issue is with getting the seat forward enough, probably due to having to move the tank back a bit for triple tree clearance.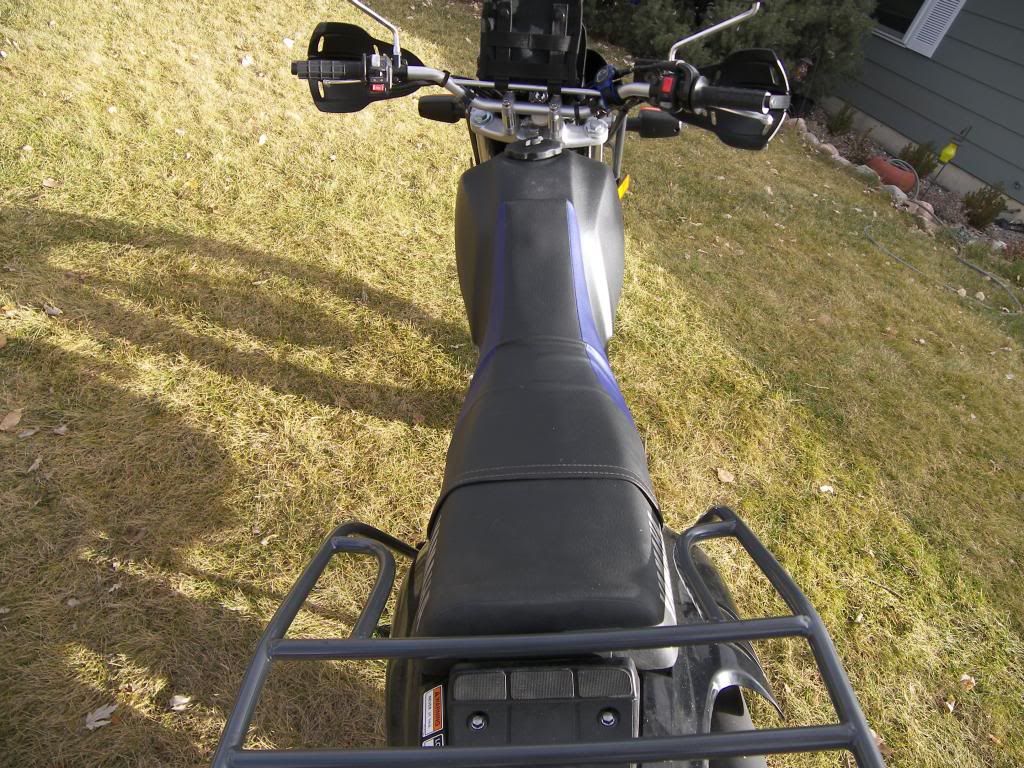 Fuel filter in place, ebay petcock (
New Genuine Gas Fuel Valve Petcock 1994 2012 Yamaha TW200 TW 23F 24500 11 00 | eBay
) clears everything nicely.
With seat pad installed: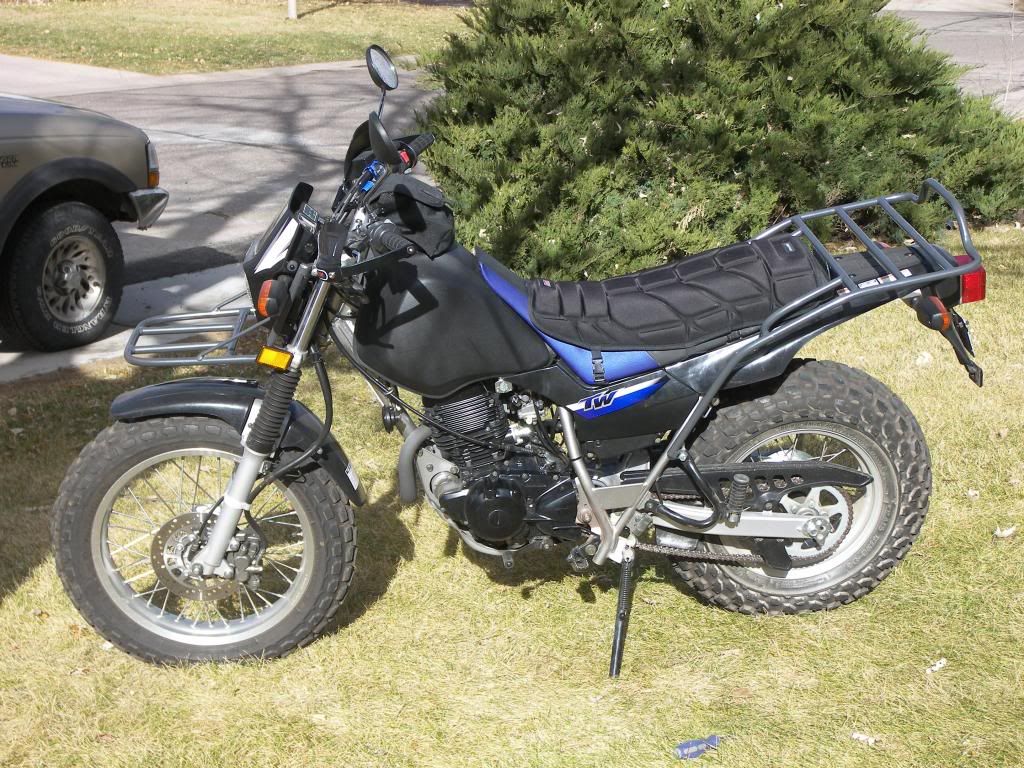 I think the tank fits the lines of the TW very nicely, and the extra fuel capacity is most definitely welcomed.